Van Phuc village on the outskirts of Hanoi has been recognized as the oldest silk village that has maintained the trade in Vietnam for more than 1,000 years.
The Vietnam Record Centre (Vietking) presented its certificate to the village at a ceremony on March 13.
A local man in Van Phuc Village is drying silk cloths in the sun
Van Phuc was once chosen by a King to take part in an international fair in Marseille, France, in 1931 and another event in Paris in 1932, winning great applause from French customers who described Van Phuc silk as the best of its kind in Indochina.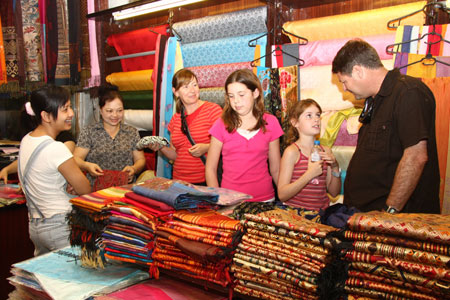 Visitors buying silk products at a shop in Van Phuc Village. Photo by Petrotimes
At present, local villagers are still preserving their traditional silk weaving techniques and showcasing their handicraft products on more than 150 stands in Van Phuc, Ha Dong district.
Van Phuc silk village has previously beenhonoured for its prestigious "Golden Thang Long (Dragon)" trademark, and selected among seven traditional craft villages in Hanoi that need preservation.

DTiNews – Dan Tri International, the news gateway of Vietnam – RSS | Really Simple Syndication